Three ways to avoid awards-season blunders
by /?php the_author();?> 11 May 2017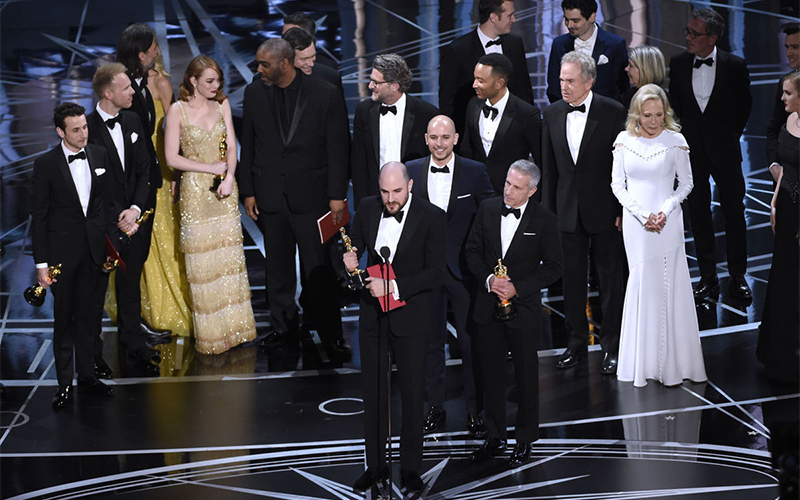 Honner is thrilled to be nominated again for Public Relations Company of the Year in Financial Standard's annual MAX Awards after taking out the title last year.
Inspired by our nomination, we thought it timely to reflect on what this year's award winners can do to avoid those famous awards-season gaffes.
1.    Prepare to bow out gracefully
Blunders don't get much bigger than announcing the wrong winner and there were plenty of red faces (and a PR nightmare for PWC) when La La Land was wrongly named Best Picture at this year's Oscars. And it's not the first major awards season cock-up – there have been similar occurrences at the Miss Universe and Australia's Next Top Model ceremonies.
So what happens if you are in the middle of your well-rehearsed speech only to have your precious gong snatched away? Smile, congratulate the real winner, make a hasty exit and, unlike Miss Universe, save the tears for later.
2.    Be ready for technical issues
A raft of technical issues can occur during awards season, as Jimmy Fallon found at this year's Golden Globes when his teleprompter went down seconds into the live broadcast.
What's a seasoned host to do but improvise? "Cut to Justin Timberlake and he'll… just wink at me or something," he quipped.
If technology fails while you are on-stage, make like Fallon and have a joke or two up your sleeve to fill in time until things get up and running again.
3.    Avoid being overconfident
It's great to be confident but history has shown that overconfidence can leave you with egg on your face. Take actress Rosalind Russell, who walked into the 1947 Academy Awards assuming her Best Actress Oscar was in the bag. Russell stood up before the winner was even announced, only to lose out to Loretta Young.
Or think back to Sally Field's much-parodied acceptance speech, when she announced: "I can't deny the fact that you like me right now, you like me!"
So if you are fortunate enough to receive a gong, how can you avoid similar gaffes? Accept the award graciously and remember to thank the people who nominated you, invited you and the team who contributed to your success, so everyone leaves the event feeling great about the evening.
Help Honner win!
Now we are on the other side of the awards fence we need your help to take out the title of Public Relations Company of the Year! Please vote for us here: WWW.FINANCIALSTANDARD.COM.AU/VOTING
We appreciate your support.
The Honner team