Far from the madding crowd: The 8-Step Honner Content Model to connect, converse and convince.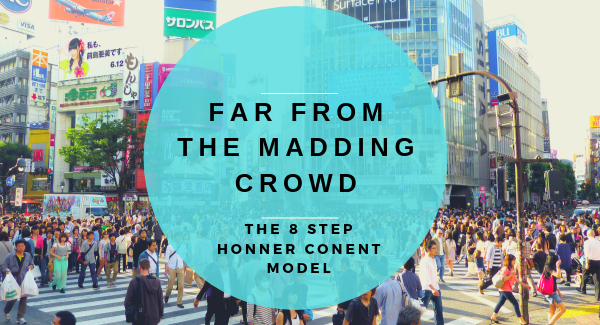 Earlier this year as I was standing at Shibuya Crossing in Tokyo (regarded as one of the most crowded spaces in the world) and it reminded me of the current state of the content marketing landscape. The last decade has seen content marketing evolve from a niche sub-sector to a mainstay of modern marketing strategy – but brands are increasingly grappling for a share of voice to effectively engage their target audiences.
According to leading market research firm Technavio, the global content marketing industry will be worth $575 billion by 2021. This growth is being driven by the cost-effectiveness of content marketing compared to traditional advertising; its ability to tackle pain points and build trust among customers; and its usefulness in building brand awareness and generating leads.
But content marketing may have reached a saturation point as everyone jumps on board the content band wagon. Some firms are still treating content marketing like a hamster wheel – continually spitting out more content and then moving onto the next piece. The financial services industry is also guilty of focusing too much on a salesy product approach and providing bland content that lacks an emotional connection.
In order to overcome this tsunami of content from competitors and succeed in grabbing the attention of audiences, marketers therefore need to work smarter, not harder. Effective content programs should focus on engaging with audiences and looking at how they nurture that relationship. Otherwise brands are just broadcasting.
At Honner we see a much bigger opportunity for businesses willing to shift their focus from high volumes of content to a more strategic focus on creating customer value and connecting with audiences.
Every day our content marketing team works with financial services firms that are trying to produce great content for the media, their social assets and their website. One of Honner's core missions is to advise financial services firms on how to understand, develop and execute smart content marketing strategies. We've witnessed how hard it is to produce a quality piece that is going to get cut-through.
While every project is different, the Honner Content Team have come together and identified the foundations of what a firm needs to do to transform their content marketing process. We've identified and extracted the success factors and combined them into The 8-Step Honner Content Model.
Over the next eight weeks, we'll put the spotlight on each of the eight steps in a blog series that outlines key strategies and tips from Honner to maximise each stage.
Next week we'll publish the first blog in the eight-part series, Listen Deeply. This step is all about market intelligence and forms the foundations of a winning Content Marketing program – ensuring your content marketing program is truly grounded in dealing with the pain points and needs of your customers.
Get further insight on The Honner 8-Step Content Model connect with Craig Morris.