Think like a CEO when planning your content: The 8-step Honner content model to connect, converse and convince
by /?php the_author();?> 3 June 2019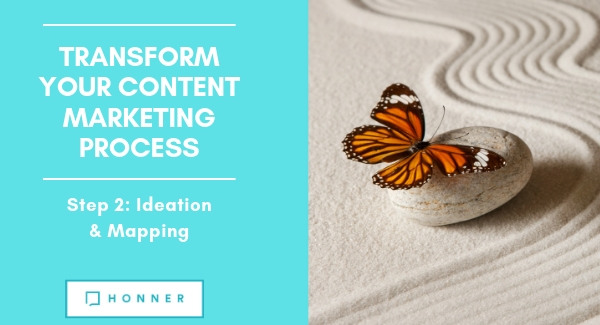 The Honner Content Team has pulled together a bumper outline of what a firm needs to do to transform its content marketing process. The Honner infographic: Turning Content Marketing into Conversations details the key steps to executing a winning content marketing program and how to nurture a conversation with your customers.
Over the next few weeks we will put the spotlight on each key stage, outlining key strategies and tips to maximise each step. In the last blog we looked at the need to Listen Deeply. This week we're focusing on the second stage: Ideation and Mapping. This is all about turning your insights into concrete content ideas that are aligned to the business's objectives and will therefore delight your CEO.
Who is the content/editorial team? When determining your key content decision makers, an effective and inclusive strategy is to create an editorial board with representation from across the firm – not just marketing. The team should meet at least quarterly and constantly refine the long-term content program – taking the customer insights gathered in the first stage and developing the ideas and opportunities which will form the backbone of your content program.
Think like a CEO. Before you decide what content to create, the best advice we can give you is – ask yourself what is important to your CEO.  Your content marketing goals should be developed off the back of your business goals. Many firms make the mistake of thinking that content marketing is all about acquiring customers, but content should also be designed to drive loyalty with existing customers. The business objectives could fall into one of these four categories:

Be an industry thought leader
Build awareness/perception of the brand/capability
Generate leads/sales
Build customer loyalty/cross sell

The art of brainstorming. Encourage your team to develop ideas beforehand so prior to the session, communicate the purpose/challenge, and any background information that will help orient their thinking. A good starting point when brainstorming is to focus on the pain points of your customers and build a range of ideas off the back of these. The brainstorming process is about encouraging creativity and big ideas, so focus on quanity not quality and don't judge. Get the participants to think like a journalist – because the role of a journalist to cover stories (not content) that engages and connects. Once the brainstorming session is complete, you can decide which ideas are the best to implement.
Develop the editorial calendar. Once you have identified your best ideas, it is time to map out a dynamic plan which documents the content you will develop over the next 12 months. It will ideally link the content to personas and the business objective and outline success metrics for each piece. It will also help you focus on quality over quantity and ensure you are developing content to support your most important business priorities.
Utilise 'evergreen' content: When planning and updating your content, remember it doesn't always have to be about starting from scratch. Look for interesting and relevant content you already have within your business that will not immediately date and find new ways to use it to engage your audience.
Identify the channels you will use to communicate. You should know from your customer persona analysis where your target audiences are spending the most time and what their pain points are. For example, a financial adviser might appreciate a few slides that explain share market returns to their clients far more than a lengthy online article. For each piece of content, document the format you will use and the channels you will use to promote it.
Plan but also be agile: While planning is great, the content marketing process also needs to be agile and able to quickly respond to emerging themes that are of interest to your customers. Keep an eye on the latest news and developments in your industry so you can keep your audience informed. If you can be timely with your content, clients will appreciate the responsiveness.
Remember it's not all about blogging: As you plan to develop your content, remember that content can take many different forms including infographics, videos, blog posts, long form research, podcasts, case studies using real people, checklists, photographs, webinars and testimonials. In fact, the more you mix it up, the more interesting it will be for your audience.
Content planning tools
Next week we'll publish the third in the eight-part content marketing series, Seek Authenticity.
If you'd like help creating a well-researched content marketing strategy, or more information on Honner's 8-Step Content Marketing Model, contact Honner's Head of Marketing Solutions Craig Morris.