Insights from Canada (2019 Exchange) – The changing face of communications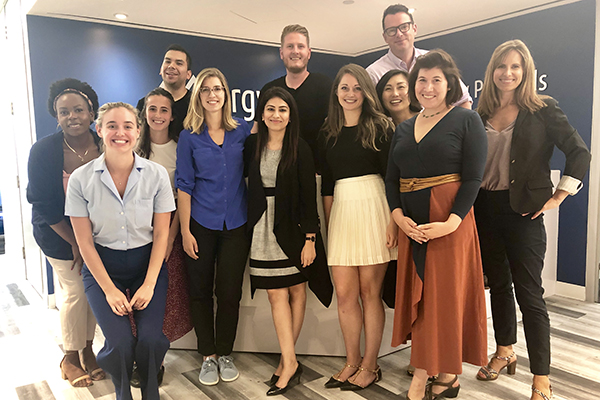 Communications is a rapidly changing field and one that's increasingly globalized. Honner's global network of partner communications firms ensures we keep abreast of the latest thinking and techniques so that we can implement them for our clients.

As I mentioned in my last blog, I was recently privileged to experience an exchange program working at Argyle Public Relationships – one of Canada's largest management-owned communications firms and recently named by the Globe and Mail as one of the country's fastest growing companies.
 
The exchange with Argyle was a chance for me to step back from Australian financial services communications, a world I have been working in for over three years, and to learn what is best practice in the PR industry in Canada with an agency whose clients range from Facebook to the Ontario Science Centre.

It was also particularly a good time for me to take this trip while we're continuing to expand our service lines at Honner, into influencer marketing, investor relations and more, and to see how other agencies have also built more integrated campaigns, an area that Argyle specialises in.

In this blog, I explore Argyle's approach to communications – featuring some powerful and unique tactics that have led them to this success. 

Media is only part of the solution     

At Argyle, PR and communications are highly integrated, with media only being a part of the solution. PR is a lot more than media relations and Argyle clients do not see their PR consultants as 'one trick ponies'.  

A typical Argyle strategy would include a wide range of tactics such as: media; social and digital; strategic partnerships with researchers or think tanks; association and community engagement; influencers; media buying; creative advertising (banners, display ads storyboards, infographics, videos), content marketing; events; and websites. 

In Australia, Honner too has been on a journey in recent years to expand our offering, building on our strong background in financial services PR to now utilise a much broader range of tools to achieve our clients' strategic goals, including investor relations, marketing solutions, digital communications, and content marketing. 

So, it was great to have first-hand experience of working with an agency that's pushing the boundaries of communications, including utilising new technologies to shake up campaigns, especially in the consumer space.

Particularly in digital, Argyle are doing some cool things such as touch screen engagements using kiosks, digital billboards, virtual / augmented reality pop ups, sensory images, interactive charts, Snapchat filters and Instagram stickers for their clients.  

Influencer engagement is mainstream 

Argyle helps clients garner unconditional support from influencers. Similar to Honner's media roundtable events, Argyle launches the products and services of their consumer clients directly to influencers. 

The success mantra is to work around their timings (most influencers have full-time jobs), select an 'Insta-friendly' venue, use custom hashtags and pitch it right: What's in it for them? How can they engage their followers better through this content? 

Often, Argyle also encourages including the influencer voice in client media releases or media engagements, where appropriate, to add an extra layer of third-party credibility. It works. 

At Honner, we are exploring how we more effectively engage influencers and opinion leaders across the financial services sector to help clients tell their story in different ways to new audiences. 

In-depth audience analysis comes first 

Audience analysis is sacrosanct for any strategy build, and Argyle's approach is very impressive. 

A typical audience mapping includes identifying who is most critical in directly helping clients achieve their top three objectives and what their sweet spots are: What keeps them up at night? Who influences them? Who belongs in their circle of trust? What are the best ways of reaching them?

Argyle does this by developing detailed illustrative personas listing their risk tolerance, motivation, pain points, influencers and media habits. This exercise helps them to answering the above questions and hit the bull's eye when it comes to understanding the psyche of their audience. 

An audience intelligence and social listening platform, Pulsar, is what they swear by. 

Secondment in client offices

Argyle has dedicated consultants working on their single largest client, Facebook Canada, which also involves spending a couple of days working out of client offices each week. 

This is a common concept at the agency and very well received by clients. It is a classic example of how Argyle consultants work as an extension of their clients' marketing and PR teams and are able to work seamlessly towards achieving their clients' business and communication goals. 

Overall, it was a fantastic experience to be able to spend some time with the exceptional team at Argyle, learn more about Canadian culture and also share my insights on the Australian business and media landscape with the team. 

Lastly, my highlight: amid a fully packed week, I managed to pay a sneaky visit to Niagara Falls for my Instagram. A major tick off the bucket list!