Podcast Boom: A Financial Services Guide to Capitalising on the Explosive Audio Landscape
by /?php the_author();?> 10 May 2023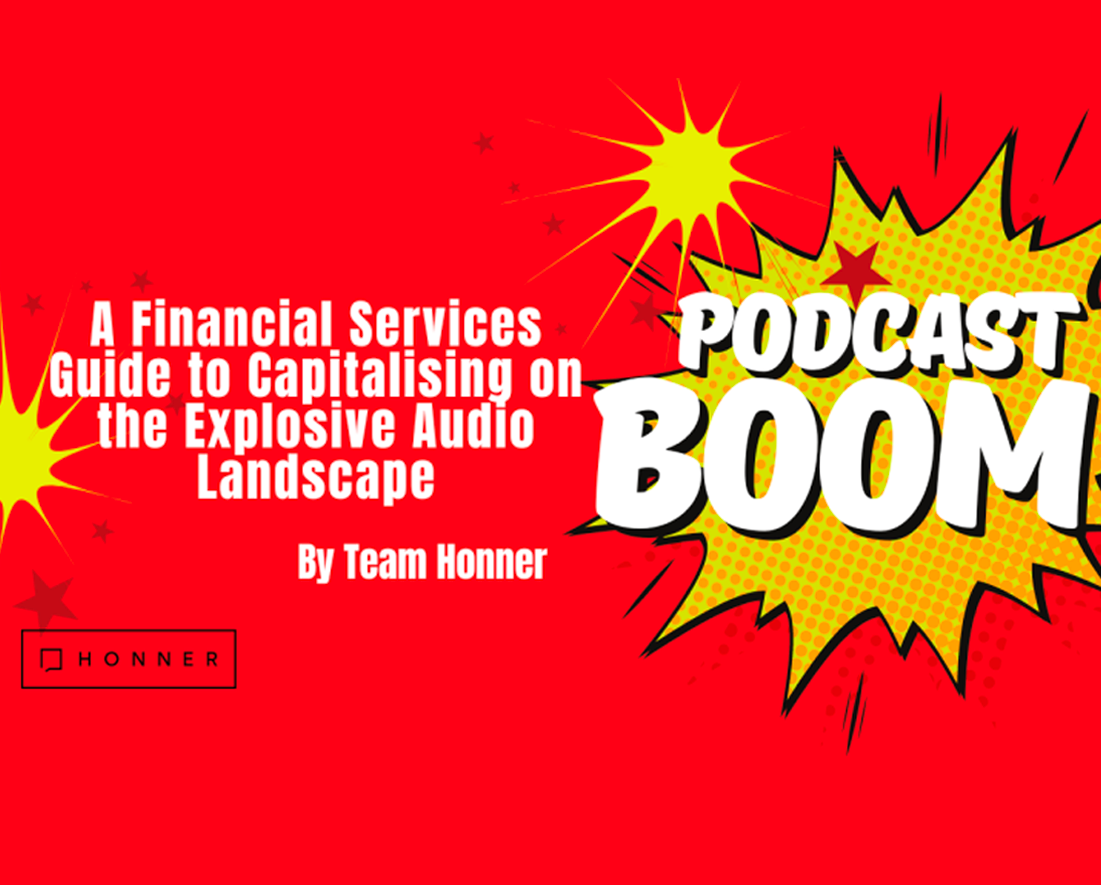 Australians listen to an average of seven podcast episodes per week, surpassing the United States as the nation with the highest podcast listenership. The financial services industry is no exception, with many professionals, asset management firms and super funds turning to podcasting to share their insights and expertise. It is estimated that there are already approximately 150 podcasts targeting individual investors, financial advisers and institutional investors in Australia.
As a leading communications agency in the financial services industry, Honner recently conducted detailed research into the financial podcast landscape. Our study reveals a trove of insights into the increasing popularity of podcasts among investors and financial services professionals – and how firms can integrate this emerging communications channel into an overall communication strategy.
We also identify our Top 10 Financial Podcasts for investors, advisers and institutional professionals.
Who are the most popular financial Podcasters?
According to Honner's research, the most successful financial podcasters are those who have a unique perspective on the markets, offer actionable insights into how to invest successfully and have engaging guests.
Popular podcasts in Australia include The Australian Finance Podcast, which targets individual investors, consumers and young Australians, and the She's on the Money podcast, which targets millennials and women and boasts over 1 million monthly downloads.
Institutional investors and advisers can benefit from podcasts such as the Financial Standard (FS) Podcast, which covers the latest developments in finance, investment trends and the economics shaping Australia's wealth management landscape.
One of the most popular podcasts targeting institutional investors and CIOs in Australia is The Ideas Exchange, which is produced by the Australian Securities Exchange (ASX). The podcast features interviews with leading experts in the finance industry, including fund managers, market analysts, and investment strategists and promotes the podcast to its vast audience of Australian investors (60,000 people currently follow the ASX LinkedIn page).
Looking offshore, the We Study Billionaires podcast is the largest stock investing podcast in the world, with 100,000,000+ downloads. It is hosted by Stig Brodersen, Trey Lockerbie, and Clay Finck. The trio interview and study legendary investment gurus such as Warren Buffett, Cathie Wood and Jeremy Grantham to uncover their valuable investing lessons and the strategies they are currently employing to manage the opportunities and risks of the stock market.
The Wall Street Journal and sister publication Barron's now run 15 different podcasts between them. According to their media kit, their main podcast, The Journal, had close to 100 million downloads in 2022. Recent podcast titles include: The World's Richest Person Is Planning for Succession, How Investigators Cracked a $3.4 Billion Crypto Heist and A $175 Million 'Huge Mistake', (covering JPMorgan Chase's purchase of Frank— a college financial planning startup).
Do podcasts make money?
Yes. And it can be a very profitable. In terms of earnings, some of the highest-earning investing podcasts generate millions of dollars in revenue annually.
Paid podcasting models can take several forms, including fixed rates for guest appearances or recurring segments. Some podcasts also offer digital promotions, such as social media amplification, as part of package deals. Sponsorships and advertising slots, which can be purchased pre, mid, or post-episode, are also becoming increasingly popular in the financial services industry.
In February 2023 the AFR reported that, in Australia alone, Podcasts now make $82.5m in ads – but it could be double. Although it isn't about finance, 'The Joe Rogan Experience' podcast, hosted by UFC commentator and stand-up comedian Joe Rogan, is estimated to earn over USD$30 million annually. Rogan reportedly earns about $100,000 for each podcast episode. He is ranked as the world's highest-paid podcaster.
Tips for Being a Great Guest on a Podcast
When you're invited to be a guest on a podcast, it's important to be prepared to maximise your engagement with listeners. Absorbing information through audio (often while doing something else at the same time) is different to reading. Like a radio segment – speakers need to be crisp and animated – delivering digestible chunks of information in a personable, conversational tone to keep listeners engaged.
Honner regularly provides clients with valuable opportunities to be guests on various podcasts, and we consistently see positive results. Honner's media briefs are tailored to each client's unique needs and provide valuable insights on how to make a successful guest appearance. Our team will work closely with you to ensure that you are well-prepared, with details on the host, format, topics to be covered and the audience who will be listening.
At Honner, we believe that authenticity is key – but this also takes thought and preparation.  We encourage clients to share their personal experiences, opinions and insights to create a more engaging and conversational podcast. Our team also emphasises the importance of engaging with the host to create a comfortable and relaxed conversation. In addition to preparing you for your appearance on a podcast, we also provide guidance on promoting the podcast through your own channels, such as LinkedIn, to increase visibility and reach.
In undertaking our research, Honner also reached out to a range of journalists with experience running a successful podcast, asking for their top tips for guests. Here's what they had to say:
"I love hearing about people's personal stories and experiences, so can you share a specific moment or challenge that really shaped who you are today?"
"Our listeners are always eager to learn something new, so can you tell us about a unique perspective or insight you have that might surprise them?"
"Use humour and levity to keep the conversation engaging. A light-hearted moment can help break up the seriousness of the discussion and keep listeners invested."
It's also vital to get the tech right – with an obvious focus on audio quality. First, consider investing in a high-quality microphone such as the Blue Yeti or Rode PodMic, to improve the listener experience. Additionally, try to record in a quiet, soundproof room, to minimise external noise and distractions. Adding carpet or rugs to hardwood or tile floors can help absorb sound and reduce unwanted noise. And finally, if you have the opportunity to record in a professional studio, that can also greatly improve the audio quality of your podcast episode.
Incorporating Podcasting into Your Communications Strategy
Australians clearly enjoy their podcasts – and it is becoming a fast-emerging channel to reach a wide range of target audiences who are selective and engaged.
As the podcast industry continues to grow, it is important for financial services companies to consider incorporating this channel into their communications strategies.
Many people find podcasts to be a convenient way to consume information and entertainment on-the-go, as they can listen while commuting, exercising, or completing other tasks. The highly personalised nature of podcast content also appeals to many listeners, as they can easily find and subscribe to shows that align with their interests and values.
Podcasts also offer opportunities to target a range of audiences, including Gen Z, Millennials, women and investors focused on particular themes such as climate change / ESG, real estate or cryptocurrency. Moreover, institutional investors and financial advisers are increasingly turning to podcasts as a way to stay up-to-date on industry trends and insights.
Get behind the mic!
Our team had a lot of fun talking to some of Australia's most successful financial podcasters, who are blazing an exciting new trail for financial education.
Honner's research provides a valuable resource for clients looking to incorporate podcasting into their communications strategies and we encourage you to have a chat with your account teams to see how you can get involved.
Some of the top Australian podcasts for investors, advisors, and institutional professionals: